compressor and suction in one
Oil-less compressor EKOM with two suction pumps of the line DUO 2 is the source of clean, pressed, oil-free air and at the same time the source of underpressure for dental equipments and devices. With regard to its parameters and capacity of the air tank of 25 litres is suitable for supplying of two dental units equiped with the suction unit.
Air produced by oil-free compressor provides a higher degree of hygiene and quality of work of the dentist and does not pollute the working environment by heterogeneous substances.
By its design the product is suitable for placing directly in the dental surgery as an integral part of dental furnishings.
DUO 2 – for two dental units (combination of compressor model DK50 2V with two suctions for two dental units).
DUO 2/ M – with adsorption air dryer (with controlled regeneration).
DUO 2T, DUO 2T/M – suction pumps are controlled by dental unit switch and supplied by power (24V) from preassembled module "T"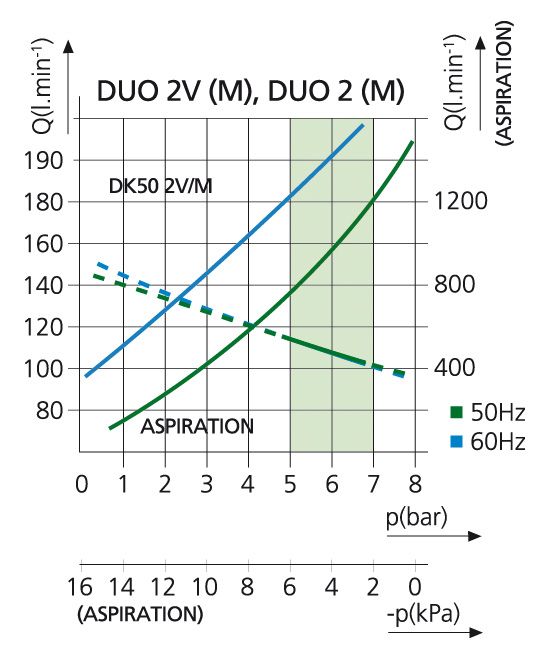 | Technical specification | DUO 2 | DUO 2/M |
| --- | --- | --- |
| Number of dental units | 2 | 2 |
| Nominal voltage | 230V/ 50 (60) Hz | 230V/ 50 (60) Hz |
| Max. current | 13,9 (15,7) A | 14,2 (16) A |
| Operating voltage | 24/0,1 V/A DC/AC | 24/0,1 V/A DC/AC |
| Compressor efficiency | 140 l.min– 1/ 5 bar | 140 l.min– 1/ 5 bar |
| Displacement | 200 l.min– 1 | 200 l.min– 1 |
| Working pressure of compressor * | 5 – 7 bar | 5 – 7 bar |
| Air tank capacity | 25 lit. | 25 lit. |
| Mode of operation | S1-100% | S3-60% |
| Noise level | ≤ 51 dB [A] | ≤ 51 dB [A] |
| Weight | 123 kg | 134 kg |
| Dimensions (w x d x h) | 560x640x1250 mm | 560x640x1250 mm |
Information on request